Black Lives Matter in the Workplace
The Features Team, H. Chuks, The Recruitment Times, June 14th 2020


"I just witnessed the lynching of a black man, but don't worry Ted, I'll have those deliverables to you end of day."
Shenequa Golding

As the spectre of COVID-19 looms over the world and shapes the way people socialise and work, the age-old issues of systemic racism and police brutality have reared their heads in a series of ugly incidents in the USA in which black men and women have lost their lives to white males in unjust fashion.

Ahmaud Arbery was shot and killed by a father and son duo who claimed to have been conducting a citizen's arrest, in February 2020. The men were not arrested until video footage of the pursuit and shooting was leaked and went viral via social media in March. Public clamour for posthumous justice leading to the eventual arrests of the two men.

Breonna Taylor was killed in March by police officers who shot her, a 26-yeard old EMT who aspired to be a nurse and had no criminal record, at least eight times during an erroneous "no-knock" drug search operation. The search warrant not only didn't mention the victim, but it was also issued for a home miles away that belonged to two men who were already in custody.

The senseless death of George Floyd has triggered protests and worldwide disgust. Floyd was arrested in broad daylight in Minneapolis, US. Captured on video, Floyd does not appear to resist the attentions of the arresting officers and is handcuffed, laying on his stomach in the street. The arresting officer maintains a knee on Floyd's neck, despite Floyd's repeated cries that he cannot breathe, for eight minutes and forty six seconds. The officer that applied the knee is so nonchalant and uncaring as to keep his hands casually in his pockets, and his colleagues appear utterly unmoved by Floyd's discomfort and plaintive cries. Floyd eventually becomes non-responsive and is pronounced dead on arrival at hospital.

Floyd's death has triggered rioting and protests in the USA and protests in the UK, for justice for the three deceased and ending cycles of institutionalised racism and discrimination. To date (June 5th, 2020) there have been protests recorded in all 50 US states, with other demonstrations in 18 other countries across the world. This is not a flash-in-the-pan moment.

The consistent barrage of such police brutality evidence in addition to the day to day exposure to overt and covert racism for many black people is taking a toll on their mental health; people who have this inner turmoil added to the many issues brought on by the impact of COVID-19.

In such a climate, and with growing unemployment across the globe due to COVID-19 impact, will black prospective employees and existing black employees be emboldened or even comfortable voicing a need for solidarity for the plight of blacks in the western world, and compassion as part of their employee experience; balancing managing the emotional trauma of negative black experiences outside and inside the workplace, against the tasks and deadlines and deliverables expected as part of the job?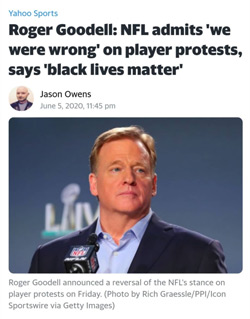 25,000 Facebook employees participated in a virtual town hall session last week (w/c 1st June 2020) in which CEO Mark Zuckerberg was asked why Donald Trump's incendiary post (the 'when the looting starts, the shooting starts' was not removed by Facebook's moderators. The question could rightly be put to Zuckerberg as his power is absolute: he holds 58% of the voting stock. The CEO was also asked how many black people had been involved in the decision to not remove the post. The answer is one (Maxine Williams, the company's global chief diversity officer).


"Not a sign from anybody in my industry which of course is a white-dominated sport. I'm one of the only people of colour there yet I stand alone. I would have thought by now you would see why this happens and say something about it but you can't stand alongside us. Just know I know who you are, and I see you."
Lewis Hamilton, world champion Formula One race car driver

Hamilton is the only black driver in Formula One and has been outspoken on the sport's need for greater diversity in the past. In the wake of the high-profile deaths, in lockdown he has realised that he wants to feel that his employers and colleagues alike are similarly pained by the injustices and have a sense that he may be struggling to process the situation. When he made the comments, it is reasonable to assume that he felt isolated and unsupported.

He has a considerable social media platform from which to give his opinion and vent his feelings about the current situation (over 12 million followers on Instagram and over 5 million followers on Twitter).

Despite the launch of a diversity program in 2019 by the Formula 1 governing bodies, Hamilton has been critical of the pace of change, stating his concerns in a recent magazine interview. "I wish I could say it was better today but if anything, the situation is worse than ever," he told the Italian magazine Style.

Hamilton is a sporting celebrity. Most black workers are just that, humble workers in the corporate world unable to directly influence the corporate structure and culture. Should this change? Is now the time to accept the disadvantage in some cases and the 'walking-on-eggshells' culture of powerlessness that is the default environment that the vast majority of ethnic minorities encounter in the workplace?

"Sadly, in Formula One today, there is an overall lack of diversity: not only among drivers, but also among engineers and mechanics. If we don't make the effort to create pathways to give those from different backgrounds a chance, we will all be to blame."

"I'm not sure if I'm gonna have a career after this....but f**k that...black lives have always mattered...I need you to understand how painful this is..."
John Boyega, actor

Corporate Virtue Signalling

The quote is taken from John Boyega's rousing turn as activist speech-giver at a peaceful protest in London, UK against the recent spate of police brutality and George Floyd's death, on 3rd June. Boyega, despite his overriding passion, was aware of the risk he was and is taking being so outspoken in the fight for change and justice. His employer is the film industry, Hollywood being the most prominent. A rebel denouncing racism may find him or herself not being offered sought-after or even run-of-the-mill roles, effectively being ostracised like Colin Kaepernick has been from the NFL, unable to ply his trade as a quarterback since 2016.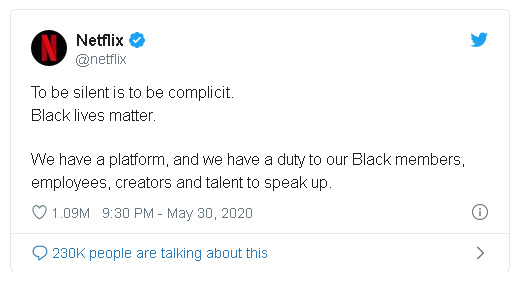 Corporations such as Nike has produced messaging showing solidarity with the current push for justice and reform. Social media messaging is important, but fuller measures such as internal company policy that should be communicated and implemented. The call by some on social media for companies to reveal their diversity statistics and show anti-racist policy and HR mechanisms is more divisive at this stage. For it seems that non-blacks are in fear of saying the wrong thing or showing their hand - an all white or majority white hand - and being called out for hypocrisy. An open dialogue would always help. Effective communication always helps where both parties make a point of disarming the other with honesty.

"We must educate ourselves more deeply on the issues faced by Black communities and understand the enormous suffering and senseless tragedy racial bigotry creates."
John Donahoe, President and CEO of NIKE, Inc.

The $126bn (£99.3bn) sports shoe behemoth, which profits tremendously from black athletes and black culture, has no black executives on its top team. The same is true of the executive and supervisory boards of sportswear brand Adidas. Outside of the boardroom, Nike has been proactive with messages of solidarity, and has announced a $40 million commitment over the next four years to support the Black community in the U.S. on behalf of the NIKE, Jordan and Converse brands collectively.

Tim Cook, CEO of Apple, penned an open letter, in which he wrote "To the Black community — we see you", the Apple boss will now be under pressure to explain how the black community is seen by a global company that has no black members of Mr Cook's executive leadership team. A curiousity in common with Facebook, Google/Alphabet, Microsoft, and Amazon (barring diversity and inclusion leadership roles, none of these companies have black people on their executive leadership team).

"Are we going to talk the talk or walk the walk? When the demonstrations slow down, how many of us are truly prepared to do the necessary work every day to make profound change?"
Ric Lewis, Co-founder and CEO of Tristan Capital Partners

The talent is there, so does the executive teams and boardrooms present an ongoing glass ceiling to black men and women?

COVID-19 has served as a battering ram to normal, both in commerce and socially. It provides an opportunity to operate in a different, more empathetic, emotionally intelligent way moving forwards. The onus on operating better post-George Floyd is not just on human resources and senior and exec management. It should be a discourse and a collaboration at all levels of a company. Gain insight from black employees and really review it. Box-ticking exercises are seen as inauthentic, and inauthentic corporate manouevres do not fully engage staff.

At the least, in light of the global unrest at the death of George Floyd and the many others brought to light just in 2020, if you are a non-black worker or business owner, at this point in time, ask yourself how does my company treat black people? Workers? Customers?

"It is not enough for firms to be "neutral" on racism - they must be proactively 'anti-racist' and promote inclusion."
Dame Vivian Hunt, managing partner at McKinsey

Will we see a growth area of digital tool that companies utilise to record racial incidents and to gather racially sensitive observations and suggestions? Time will tell.


"Now is not a time for silence, and Spotify stands with the Black community. As our support continues to evolve, we hope that these initial steps and actions will help push these conversations forward, promote deeper allyship, and usher in positive and lasting changes."
Spotify corporate statement, June 2020


Being Practical, Bringing Change
Tim Armoo undoubtedly has skin in the game. As a young black man and the co-founder and CEO of the growing and successful digital marketing agency FanBytes, he is at once both observing and feeling the outpouring of anger at the death of George Floyd, and a recipient of racist behaviour, as well as a business owner seeking to lead his company through this difficult time and to ensure he and the business open a dialogue with all staff black and non black and show understanding where there may be struggles to deal with the roiling news. We interviewed Tim for his thoughts on how the FanBytes team could handle the events and become even stronger.

1. As a black business owner are making sure you are in tune with the black members of your team and/or giving them a forum to speak on the emotional impact of the US tragedies?
Yup, we've actually just created a forum for our team to develop their ideas of what we can do. Some brilliant ideas have come through this -- https://tinyurl.com/yaan5uf3 . Sure the black team members require attention but it's more powerful when everyone is involved to make it seem like like a black issue.

2. Will the current situation lead to positive policies in Fanbytes for black employees to voice racially sensitive issues?

I don't think we neccessrily will see a change in policies as we'd been pretty open about issues of race. You can't have a company led by an obvious black CEO and expect not to . What I think we'd see is more attention being paid to our black creators. It's become apparent that although we serve them well, others don't and we need to do more to let people know about how great these people are.

3. Do you think the current situation will help dismantle the many 'old boy's clubs' such as the venture capital sector?

I dont think so. Long way to go but for the first time real actions are being had. Already I'm working with some media companies to have "dragons den type shows" for black entrepreneurs.

Inspired by Tim, International keynote speaker and senior client partner at Electric House William Bonaddio and Jungle Creations CCO James Wigley have sought to help by mentoring, offering to give guidance to young black men seeking to gain entry into the marketing sector. Mentoring can open doors, inspire, support and encourage people to realise their potential and to achieve their dreams. Mentors can make a profound difference in the lives of their mentee – and in turn, strengthen our communities, economy, and drive social change.

On June 2nd, Spotify pledged to support their black employees, friends, partners, artists, and creators in the fight against racism, injustice, and inequity. Starting from this date, Spotify proactively tweaked its algorithms to amplify black content and to promote black-centric playlists.

Spotify leadership also encouraged all employees around the world to observe Black Out Tuesday by taking time to reflect and educate themselves. Resources on what it means to be an effective ally to the Black community has been shared internally, and Spotifiers will have access to trained mental health providers. Additionally, Spotify will match financial donations made by employees to organizations focused on the fight against racism; injustice; inequity; and driving meaningful change.

Following Black Out Tuesday, Spotify leadership intends to engage its global community for a facilitated discussion about racial injustice.

Alexis Ohanian, the founder and former CEO of Reddit, and the husband of black athlete Serena Williams, has stepped down from his position on the Reddit board and requested that his seat go to a black candidate. This is a very unusual and high profile move. Ohanian has also committed to use future gains on his Reddit stock to serve the black community, chiefly to curb racial hate. He has begun with a pledge of $1M to Colin Kaepernick's (@kaepernick7's) @yourrightscamp.

Catherine Garrod is the Head of Inclusion at the broadcaster, Sky. It is incumbent upon her to find solutions for employee inclusion. Her thoughts are turned to the current events and the pervading climate and she has mused key things non-black leadership and company owners and staff can do to reach out to black colleagues, including simple steps as committing to learning about racial bias and unconscious bias, encouraging dialogue and whistleblowing on racism.

Andrew Hobbs, a Partner (EMEIA Public Policy) at global management consultancy EY, acknowledges that he hasn't had at the forefront of his thoughts lack of inclusivity and unconscious bias that may be at play. He is deterined to proactively make inclusion a priority consideration in every interaction he has at work.

Postscript:
Following Lewis Hamilton's Rant, Daniel Ricciardo, Charles Leclerc, and Other Formula One Drivers Finally Voice out Against Racism: Click here for the article >

Reddit announced the replacement of co-founder and board member Alexis Ohanian by Michael Seibel, the CEO of startup accelerator organisation Y Combinator, who will be the first black board member of Reddit. Prompted by Ohanian's request, Seibel's hiring comes as Reddit CEO Steve Huffman published a letter saying that the company needed to take a greater stand against racism on its platform. Read more >

Maintaining Professionalism In The Age of Black Death Is...A Lot.
A Medium blog post by Shenequa Golding: Click here >

Starbucks reverses its stance and will now let baristas wear 'Black Lives Matter' apparel

Black [Life] Matters, a blog post by Femi Taiwo, Data & Technology Strategy Director at OMD EMEA: click here >